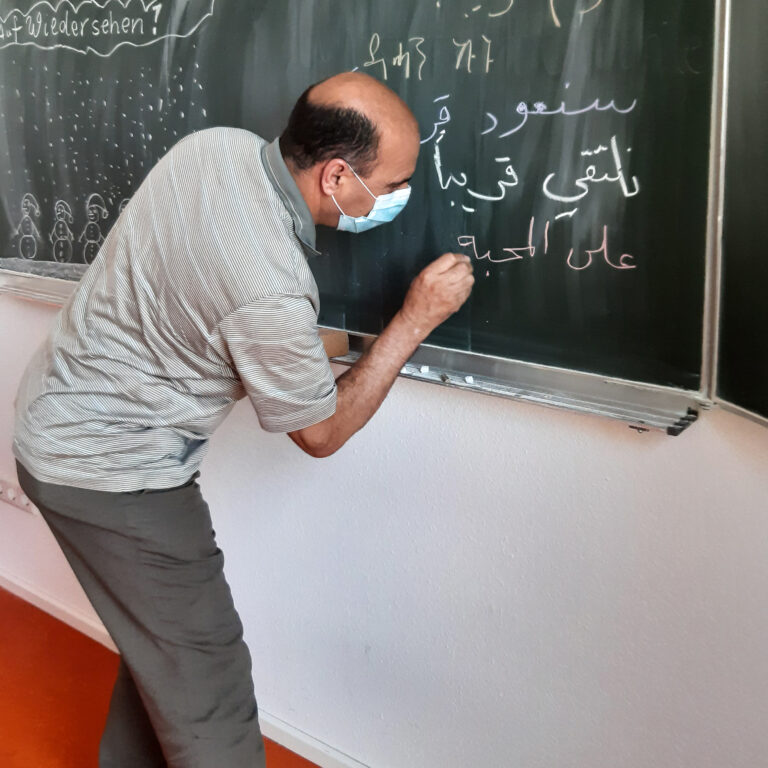 Communication Skills in the Professional Field of Education (KomPäd) – Since 2019,the IQ courses has been offered  in the Educational Professional Field . It promotes the acquisition of technical language skills of foreign specialists in (social) educational occupational fields  in order to cope with everyday professional communication in a professional manner, to play a role and to strengthen their performance in Germany.It thus prepares partcipants ​for the use of language and to  strengthen their performance in these jobs.
The IQ project KomPäd is funded by the Federal Ministry of Labour and Social Affairs (BMAS) and the European Social Fund (ESF). Duration: 01.08.2019 – 31.12.2022 / Region: North Hesse
IQ courses in educational care are offered several times a year.
It is also possible to join the ongoing (currrent) course.

The IQ course in the professional field of education is promoted by the "Integration through Qualification" (IQ) funding program. It is free for the participants.
Learn with each other and from each other:
The IQ Language Qualification in the Professional Field of Education addresses several educational professional fields (e.g. teachers, social educational specialists), which creates diverse contacts with (social) educational practice fields.
The IQ language qualification in the professional field of education (KomPäd) is an offer as part of the IQ Network Hessen. The "Integration through Qualification (IQ)" funding program aims to sustainably improve the integration of adults with a migration background into the labor market. The program is funded by the Federal Ministry of Labor and Social Affairs (BMAS) and the European Social Fund (ESF). The implementation partners are the Federal Ministry of Education and Research (BMBF) and the Federal Employment Agency (BA)